National Coverage:
Workshop service from over 50 engineers nationwide

Complete national coverage operating from a central UK location

Breakdown services and planned maintenance
OUR SERVICES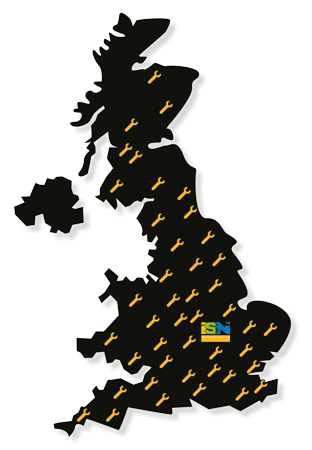 ISN GARAGE ASSIST – GARAGE SERVICES ACROSS THE UK
ISN Garage Assist is one of the leading Garage Equipment Service & Maintenance providers across the whole of the UK. From our HQ in Leicester we have over 65 engineers on the road full time assisting you in the smooth running of your business.
We handle the equipment maintenance, emergency breakdown service and MOT Bay Management for some of the UK's largest chains. We are as equally prepared to take care of independent garages as we are these largest automotive repair groups.  Every programme is tailored to suit the customers' individual needs with the ultimate aim of keeping garages, MOT Stations and main dealers' workshops running efficiently.
GARAGE ASSIST, NO MATTER THE ISSUE
No matter the scale of your operation, we are able to assist in all manner of ways. Maybe you require a routine maintenance contract or a reliable way to ensure all of your tools are calibrated correctly with certificates? It could be an ad-hoc service better suits your style of work. Maybe you want to build a brand new workshop and need help planning the layout?
ISN GARAGE SERVICE ARE ON HAND
Whatever your requirements, no matter how large or small, ISN Garage Assist are able to offer our services. We have expertise covering all the above and so much more.
We would be delighted to discuss how we can assist you now! Call us today on 01480 884 885 or contact us now online for a free consultation on how we can help your business.
SERVICE WHEN YOU NEED IT MOST, ISN CAN ASSIST
Have you ever had a lift stuck in the air with a customer's car on it? While a massive inconvenience this kind of issue can be easy to deal with. It may be your compressor has blown up, leaving you without function on some of your most important equipment on the busiest day of the week! Whilst these situations may seem extreme, we do not live in a faultless world and equipment will go wrong. ISN Garage Assist is how you ensure these issues do not become detrimental to your business.
It's in these situations that we come into our own. Not only is ISN able to provide on-site support in a timely manner when disaster strikes, but we can also deal with insurance companies and source unusual spares.What's more, we can advise you on which type of equipment is right to buy for your business when information overload has struck, and enthusiastic sales people keep on calling!
We are impartial experts ready to assist with whatever services you need. Contact us now to discuss  more – call ISN Garage Assist on 01480 884 885.