With the introduction of connected brake testers into the industry taking place last week, we are taking a deeper look into the benefits of MOT connected equipment for your business. 
The DVSA have brought in new rules & regulations surrounding mandatory connected equipment, but not many garage owners know what that means for their equipment or services. 
Keeping informed and up to date with the latest MOT news is all a part of offering the service. We have already altered our way of thinking and operating to incorporate MOT connected equipment into your garage to make this easier. 
Even before full connection to the DVSA, this new way of operating is highlighting the benefits to garages, as the MOT test of the future is shaped through connected equipment. 
Increased Efficiency of Connected MOT Equipment
As seen in many industries, automation and connection can bring huge savings in time, money and resource. Connected MOT equipment will mean a smoother test, with efficient inputs and greater accuracies. Experts are already excited with how this could increase possible MOT test outputs per day!  
Jobs being completed quicker.

 

Eradicates human error.

 
In short, this increased efficiency across multiple stages of the MOT testing process allows your business to create more revenue!  
Reduction in Unnecessary Costs!
Closely relating to the increase in efficiency is the ability to remove human error. With this comes a reduction in the associated spending or putting problems right. 
Mistakes happen every day, that is human nature. Eliminating those incidents can ultimately save you valuable time and money. 
MOT Fraud a thing of the past with MOT Connection?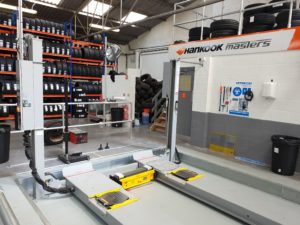 Many respectable garages that abide by the rules and regulations continue to provide excellent MOT services for their customers. It may not come as too much of a surprise thought that there are those who provide MOT test certificates without the car even being present! 
Automating MOT processes will help massively in the fight against fraudulent test. Connectivity means proof the vehicle is at the garage where it is being tested. This could even be done in the future by cameras in the bay, making for even more efficiencies.  
The result? 
A more reliable MOT testing facility with more accurate equipment and data analysis. 
Modern Equipment for the Future…
The DVSA are looking to the future of MOT testing, not just improving the now.  
Although the release date for the next piece of connected equipment is yet to be announced, consideration and due diligence is done in the approach, ensuring the future of MOT equipment is not just connected, but smart and sustainable.  
With the advancements in vehicles including ADAS and AI, its impossible not to be this forward-thinking. 
Not only are short term benefits provided by equipping your MOT bay with connecting equipment, but the ability to future proof your garage for vehicles that may come 10, 15, or 20 years can only mean future savings for you. 
Assisting you…
As a leading supplier of MOT Bay Management services and equipment, all our brake testers now conform to the DVSA standards for connectivity!  
Call today on 0116 286 3222 or email SALES@GARAGE-ASSIST.COM for more information on our MOT services.